Today, 21 October 2008, is the 203rd anniversary of the Battle of Trafalgar, where the British Fleet, under Admiral Lord Nelson, defeated the combined French-Spanish Fleet off Cape Trafalgar. It was a very important victory in the war against Napoleon. Admiral Nelson perished in the fight, aboard his flag ship HMS Victory.

I have a great passion for British history and British naval history, so I like to celebrate this day (It also happens to be my half-birthday, a coincidence which makes me very happy!).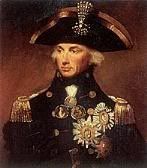 England expects that every man will do his duty.

You will find more on Trafalgar, Nelson, and the British Navy
here
.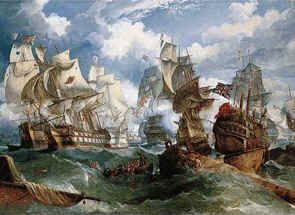 May the Great God, whom I worship, grant to my Country, and for the benefit of Europe in general, a great and glorious Victory; and may no misconduct in any one tarnish it; and may humanity after Victory be the predominant feature in the British Fleet. For myself, individually, I commit my life to Him who made me, and may his blessing light upon my endeavours for serving my Country faithfully. To Him I resign myself and the just cause which is entrusted to me to defend. Amen. Amen. Amen.


Nelson's Prayer

, written in his diary before the Battle of Trafalgar commenced
And in related news, from the BBC,
Hero's medal marks Trafalgar Day
---

A rare medal awarded to a Royal Marine who lay wounded alongside Lord Nelson at Trafalgar has gone on display marking Trafalgar Day.

The Naval General Service Medal was awarded to Lt Lewis Buckle Reeve, who was on board the Admiral Nelson's HMS Victory in the battle in October 1805.

Lt Reeve, treated by Nelson's surgeon, survived to fight again, retiring in 1817. He died in 1861, aged 75.
Do read the rest!

To celebrate I'm having Roast Beef with Potatoes, Carrots, and Yorkshire Puddings I'm making myself. I'll round it out with a lovely cup or two of "English Evening" Tea and a viewing of one of my favorite
Horatio Hornblower
films.