I love Gerard Butler! Have you seen his movies yet? (especially
The Phantom of the Opera
?)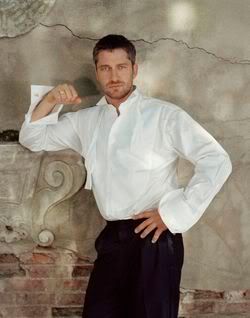 In the past two weeks, GB has had two movies come out on dvd (unfortunately not in theaters):
The Miracle Match
(aka
The Game of Their Lives
) and
Beowulf & Grendel
.
I saw
The Miracle Match
last week and absolutely loved it. It tells the story of the 1950 US World Cup soccer team. They hadn't a chance against the professional teams fielded by other countries, but the scrappy American players pulled off what I have heard described as the greatest upset in World Cup history. I enjoy sports, so the soccer aspect of the movie was fun. More importantly, the film was very patriotic and family-oriented. Gerard plays Frank Borghi, the keeper (goalie). The movie also stars brothers Louis and Costas Mandylor, Zachery Bryan (the oldest brother from the tv show Home Improvement), Wes Bentley, John Rhys-Davies (aka Gimli from LOTR), and Gavin Rossdale (singer and husband of Gwen Stefani). It was excellent and moved me to tears.
I haven't yet seen
Beowulf & Grendel
, but I have read the epic poem it was based on. From what I have seen (photos, etc.), the scenery is breathtaking. (Not to mention Gerard.)
Buffalo News:
Butler did it
---
With his striking good looks, irresistible Scottish brogue and magnetic old-Hollywood screen presence, you would think Gerard Butler would be an international superstar of paparazzi-obsessive proportions.

The fact that Butler is a darn good actor and a funny guy who isn't above making fun of himself only adds to his appeal.

So what gives? Maybe it's that Butler takes on flawed characters and roles that defy typecasting - not the usual Hollywood thinking. He's equally at home in wonderful "small" films like "Dear Frankie" as he was in the big-screen adaptation of Andrew Lloyd Webber's "Phantom of the Opera," or taking on Angelia Jolie in "Lara Croft: The Cradle of Life."

Butler's two newest films to arrive on DVD again show the diversity of his projects. One is an inspiring true story with mainstream appeal; the other is a visually stunning movie based on an eighth-century poem.
I highly recommend
The Miracle Match
. It is a movie the whole family can watch together and cheer during.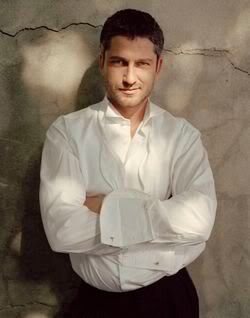 Absolutely gorgeous. And that Scottish brogue . . .
Technorati Tags:
Gerard Butler
,
The Miracle Match
,
Beowulf & Grendel
,
Movies
,