Finally, finally, finally, news on Josh Groban's brand new album, out in stores 7 November!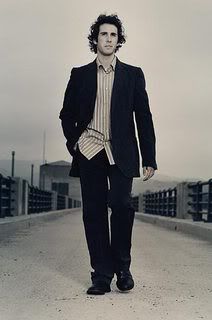 From
JoshGroban.com
:
JOSH GROBAN NEW CD 'AWAKE'IN STORES ON NOVEMBER 7TH
The legions of Josh Groban fans will slumber no more as Reprise Records announced today a November 7th worldwide release of the hotly anticipated "Awake", the follow up CD to the mega star's previous two albums, the self titled "Josh Groban" and the multi- platinum "Closer" which collectively sold well over 13 million CD's.
Groban's 'hands on' approach in the creative process of "Awake" is reflected in several Groban penned and produced songs along with musical contributions from Ladysmith Black Mambazo, Dave Matthews, Glen Ballard, Eric Mouquet, John Ondrasik (Five for Fighting) Marius DeVries, David Foster, Imogen Heap and Herbie Hancock.

"Awake's" 13 new songs including the just released first single, "You Are Loved (Don't Give Up)" show the Grammy nominated Groban's tremendous growth as a vocalist, producer and songwriter since he first appeared on the musical landscape.

"I learned from touring that my fans are really open-minded, musical, intelligent people and I feel like they want to come on this new journey with me. The music still sounds like it's coming from my heart and my soul and my voice. That is always the most important thing to me. My goal on "Awake" was to create the music and find the best people to help me create it," commented Groban.

With a lineup of stellar producers including Marius DeVries, Guy Sigsworth, Glen Ballard and David Foster, the album contains songs in Italian, Spanish and of course English. An early stand-out, "February Song" with Josh on keyboards came to the 25-year-old Los Angeles native on a sleepless night. "I wanted to write a song that melodically and lyrically represented the craziness I felt in that moment in the dark dark space. I walked over to the piano and it just came to me in a half hour in the most magical way."

Additionally, Groban recorded a suite of two stunningly haunting songs where he harmonizes with longtime idols Ladysmith Black Mambazo. The first song, the Groban/Dave Mattthews penned "Lullaby" is sung a cappella and the follow up, the South African song, "Weeping" which Josh first heard on a trip to South Africa.
You can hear the first single, "You Are Loved (Don't Give Up)" at Josh's website (lyrics at
Grobania
). I must say, I love it and could already listen to it for hours and hours! That gorgeous voice!
Additionally,
A Josh Groban tour for 2007 is expected to be announced shortly.
And,
Catch Josh on TV! Tune into ABC's Good Morning America on Wednesday, November 8th to see Josh perform two songs! He will also be a guest and perform one song on Regis and Kelly on Friday, November 10th!
Which are your favorite Josh Groban songs?
One has to love those
Byronic
curls!
Technorati Tags:
Josh Groban
,
Awake
,
Music
,
CD
,