Finally, I have time to write my thoughts on
Pirates of the Caribbean: Dead Man's Chest
, which opened Thursday night at midnight.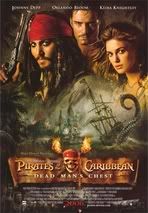 Pirates of the Caribbean: Curse of the Black Pearl
(hereafter referred to as POTC) is one of absolute favorite movies. It is brilliant.
So, I have been anticipating the sequel for about three years.
I'm glad to say that POTC: DMC did NOT disappoint! One thing I will say is that it is kind of odd to see such familiar characters in new situations, saying new lines, etc. It takes some getting used to, after three years of watching them say and do the same things over and over.
Sometimes sequels are not very good. But, that usually happens because different people made it. Perhaps different writers wrote the script or there was a different director with odd notions or different actors playing the much beloved parts. Fortunately, that didn't happen here. Same writers, same director, same actors. Fabulous.
First, my sister, best friend
Aj
, and I went to the midnight opening. The foyer was completely packed. They were showing the movie on 5 screens. People were fabulously dressed up as pirates or wearing POTC shirts. It seemed an age before we finally got into our theater, which quickly filled to capacity.
The crowd was extremely excited. Before the movie could begin, one of the ads appearing on screen seemed to be frozen, which meant the movie didn't start on time. I thought people were going to riot (well, not really, but you know . . .). A group started a chant of "Pirates! Pirates! Pirates!"
Finally, finally, they started the previews and then . . .
Pirates of the Caribbean: Dead Man's Chest
!!!
It was so very exciting! I don't really know where to begin. We all clapped and cheered at various fabulous portions of the movie: when Captain Jack came onscreen, when allusions to the first movie were heard or seen, when anything exciting or hilarious happened.
Here's the story, from
Yahoo Movies
:
Captain Jack Sparrow discovers he owes a blood debt to the legendary Davey Jones, Captain of the ghostly Flying Dutchman. With time running out, Jack must find a way out of his debt or else be doomed to eternal damnation and servitude in the afterlife. Making matters worse, Sparrow's problems manage to interefere with the wedding plans of a certain Will Turner and Elizabeth Swann, who are forced to join Jack on yet another one of his misadventures.
I don't want to spoil anything for anyone, so I promise not to reveal any specifics. :)
Johnny Depp was, of course, fabulous as Captain Jack Sparrow. It is the first time Johnny has ever reprised a role. He loves the character of Captain Jack Sparrow and even gets his teeth capped in gold for the role (it was even his idea). How does one describe Captain Jack Sparrow (and, yes, one must say
Captain
Jack Sparrow)? He's hilarious and possibly the worst pirate ever, but he always manages to get out of a situation---things just work for him, even when they work oddly. Captain Jack has the greatest lines. I can't even remember them all, though lines from POTC have found their way into every day use around my house. And, Captain Jack is strangely attractive. I'll just say it. Mostly, as the tagline says, CAPTAIN JACK IS BACK!!!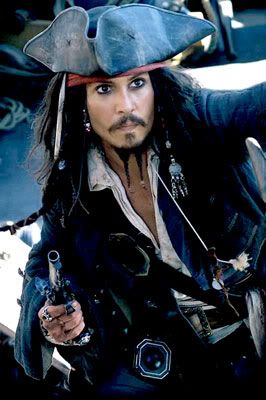 Orlando Bloom is great as Will Turner (again). In POTC, Will was the more serious character. He didn't have many funny lines, but you loved him for his devotion to Elizabeth, his morality, and his determination. He is still all that, but in POTC: DMC, Will is allowed to be funnier, to be more of a man, less of a young man (which was perfect for POTC). Of course, Orlando Bloom is very good looking too, so I quite enjoyed that! :)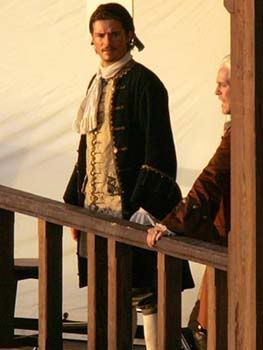 Keira Knightley was back as Elizabeth Swann. In the beginning, Elizabeth is wearing her beautiful gold wedding gown, but for most of the movie, she is attired in pirate garb, incognito as a boy. I missed the beautiful gowns that were in POTC, but this costume allowed Elizabeth to get in on the action more often. Keira was great. DMC Elizabeth was not so ladylike as POTC Elizabeth. Keira did an excellent job and had great chemistry with both Captain Jack and Will.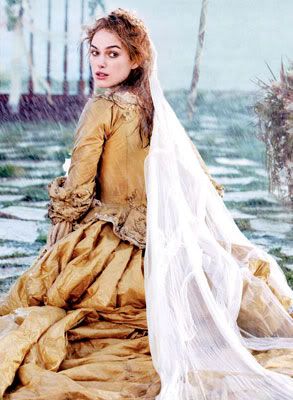 The supporting cast was great, as well. A number of the actors returned from POTC, including Governor Swann, Pintel, Ragetti, Norrington, Gibbs, and Cotton (and his parrot). The new characters were great too. Tom Hollander played Lord Cutler Beckett, from the East India Company. What a pain he is. The new villains are Davy Jones and his crew of sea creature-ish men. Creepy!
The special effects were also very well done. I adore the swordfighting sequences, which were very inventive and hilarious at the same time. Captain Jack (and the others) found themselves in some hair-raising, yet absolutely funny situations. There were also some deeper, darker scenes. And, the movie ends with a cliffhanger.
The score borrowed a lot from the fantastic score of POTC, which made us happy. But, composer (of DMC) Hans Zimmer also included new music, which fit perfectly wonderfully. We loved it. (You can hear snippets
here
)
Overall,
Pirates of the Caribbean: Dead Man's Chest
is a great summer movie. It wasn't meant to be high art, only entertainment. It certainly entertained everyone in my theater. People laughed really hard throughout the whole movie, or clapped. There was a great feeling of excitement and enjoyment in the theater. I highly recommend seeing it. In fact, my sister and I are seeing it again tomorrow (Sunday), with family. I plan to see it several times.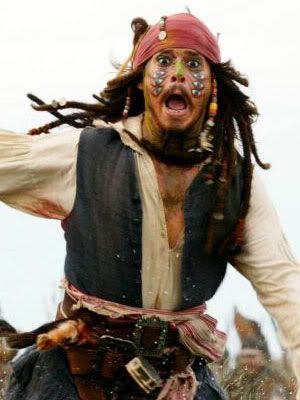 If you do see it (Do! Do!), stay until the end of the credits to see the fate of one of the characters. It isn't a long scene, but I think it is worth the wait.
Not everyone thinks POTC: DMC is very good (you can read snippets of good and bad reviews
here
), but We the People have certainly gone to see it. According to
BoxOfficeMojo
,
Pirates of the Caribbean: Dead Man's Chest
made $55,500,000 on opening day, which places it at #1 on the Top Single Day Grosses list. Fabulous! It beat opening days for the Harry Potter films, the Star Wars films, the Spiderman films, the X-Men films, and, obviously, everything else!
From
the AP
:
Move over Darth Vader. Captain Jack Sparrow is king for a day. Preliminary estimates released by Disney show that "Pirates of the Caribbean: Dead Man's Chest" earned $55.5 million on Friday, which would set the record for the largest one-day take at the box office.

The previous record was set last year by "Star Wars: Episode III Revenge of the Sith," which grossed about $50 million.

The movie was shown on 4,133 screens, beginning at midnight Friday. Only 2004's "Shrek 2" and "Spider-Man 2" debuted on more screens.

Disney also received reports of continuous sellouts and requests to add more screens at multiplexes.

"We're obviously thrilled beyond belief. Anytime you break an industry record ... the word ecstatic comes to mind," said Chuck Viane, head of distribution at Disney.

The swashbuckling sequel is on pace to eclipse the three-day, box-office record held by "Spider-Man" in 2002 with $114.8 million.
Even Drudge has this headline up:
BIGGEST OPEN IN HOLLYWOOD HISTORY!
Hooray!
I don't care what the critics say. They didn't like POTC either. POTC: DMC is great for a hot summer afternoon. Viewing it doesn't require a Ph.d in Hollywood thinking. It's just pure fun.
If you haven't seen
Pirates of the Caribbean: Curse of the Black Pearl
, I suggest you do so. It is such a great, funny film. Plus, seeing it will help you hear the inside jokes in POTC: DMC. I loved that.
POTC: DMC will be followed by the third movie of the trilogy, which is possibly titled
Pirates of the Caribbean: At World's End
. It will be out at the end of May 2007.
MSNBC's review is
here
.
Cute article on Orlando Bloom is
here
.
A Pirates (warning: not just about POTC!) quiz
here
. My score was:
You answered 79% of the questions correctly.
Mostly correct. Yo ho ho! And, if you're of legal drinking age, a bottle of rum.
Great interview with writers Ted Elliott and Terry Rossio
here
.
BoxOfficeMojo review is
here
.
Go see it! And then, visit and tell me what you think! I hope you love it as much as I do. :)
Technorati Tags:
Pirates of the Caribbean
,
Captain Jack Sparrow
,
Johnny Depp
,
Orlando Bloom
,
Keira Knightley
,
Movies
,