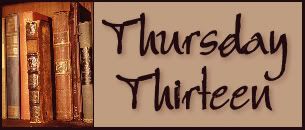 Thirteen Things: BOOKS I HAVE AT THE LAKE

Anyone who knows me knows that I LOVE to read. I have books all over, in stacks and piles, and my bookshelves are two books deep. I will never have or read enough books. So, it is only right and necessary that I have books at the lake, as well (rest assured that I have at least one copy of each of these books at home!). I bought copies, some used, some new, especially for the lake. As much as it goes against the grain, I am trying not to worry if they get a bit of water or dirt or sunscreen on them (very tough not to think about it, but I am trying!).

So, I present my list of books I have at the lake (Oh, I also have lots of little romances, but I'm not counting or listing them!):

I love the Lord of the Rings and Tolkien books and movies. So brilliant. For some reason I haven't bought the 2nd of trilogy, but I plan to.

1. Lord of the Rings: The Fellowship of the Ring by J.R.R. Tolkien
2. Lord of the Rings: The Return of the King by J.R.R. Tolkien
3. The Silmarillion by J.R.R. Tolkien
4. Wuthering Heights by Emily Bronte: I absolutely love this book and read it every October, because the month seems to fit the mood of the book. Beautiful.
5. The Marrying Kind by Cynthia Rutledge: This is a little Christian romance that I absolutely love. Great story and characters!
6. A Walk to Remember by Nicholas Sparks: I absolutely love this book and cry every time I read it. The movie is different, but beautiful, as well.
7. Jane Eyre by Charlotte Bronte: I first read this in high school and wrote my senior English thesis paper on Jane. Brilliant novel.
8. William Shakespeare-Complete Sonnets: A collection isn't complete without some Shakespeare! I do love the Bard! Especially his sonnets.
9.Emma by Jane Austen: Jane Austen is my favorite author of all time and I love all of her books.
10. Pride and Prejudice by Jane Austen: This is my absolute favorite novel of all time. I adore it and have read two times already this year. Mr. Darcy: need I say more?
I love J.K.Rowling's Harry Potter series and have books 1-6 at the lake. As I only have space left for three, I'm going to double them up.
11. Year 1: Harry Potter and the Sorcerer's Stone ;
Year 2: Harry Potter and the Chamber of Secrets
12. Year 3: Harry Potter and the Prisoner of Azkaban;
Year 4: Harry Potter and the Goblet of Fire
13. Year 5: Harry Potter and the Order of the Phoenix; I think OotP is my favorite of the first six (book seven is coming out sometime in the next few years). It is the longest so far, and the heaviest. I once dropped the paperback copy on my nose. Luckily, I didn't break it.
Year 6: Harry Potter and the Half-Blood Prince

What books would you read at the lake or on vacation?

Links to other Thursday Thirteens!



Get the Thursday Thirteen code here!

The purpose of the meme is to get to know everyone who participates a little bit better every Thursday. Visiting fellow Thirteeners is encouraged! If you participate, leave the link to your Thirteen in others comments. It's easy, and fun! Be sure to update your Thirteen with links that are left for you, as well! I will link to everyone who participates and leaves a link to their 13 things. Trackbacks, pings, comment links accepted!

View More Thursday Thirteen Participants