I'm very excited today. The fourth and final book in my new favorite series, the Twilight Saga, by
Stephenie Meyer
, comes out tonight at Midnight.
Breaking Dawn
is going to be amazing! I'm having a little Breaking Dawn party with friends and my sister before we head to Barnes & Noble for the Breaking Dawn party there. We'll get our books sometime after midnight and head out to the lake to read until we finish the novel or fall asleep where we sit! It is going to be marvelous!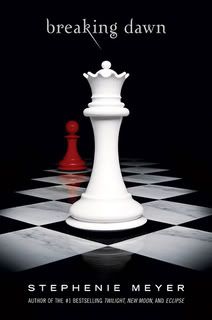 If you haven't read any of these books yet, it isn't too late. They are amazing! Here are the first three books in the series:


Twilight (The Twilight Saga, Book 1)
New Moon (The Twilight Saga, Book 2)
Eclipse (The Twilight Saga, Book 3)


These books are about a girl named Bella who moves up to rainy Forks, Washington, to live with her father. There she meets a mysterious boy named Edward. He turns out to be a Vampire, but he and his family only feed on animals. They fall in love, but the scent of her blood is very tempting to him, which complicates their romance. These books are so fantastic I could just rave and rave about them!

Enjoy!

P.S. Tonight is the

New Moon
AND, a special

Eclipse
(article here).