Today is also Harry Potter's birthday! If he were a living being, he would be 27 years old!
Happy Birthday, Harry!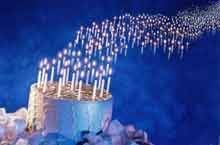 Celebrate by reading a Harry Potter novel, watching an HP movie, and having a Harry Potter Party!
For more information on Harry Potter, visit:
J.K. Rowling's Official Website
Mugglenet.com
(You can find out what a Muggle is, if you don't already know)
Or any of the other HP sites on my sidebar.