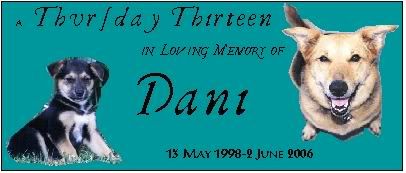 Thirteen Things about In Loving Memory of Dani
I have been meaning to do this, but the thought has been too painful. I miss my baby girl so very much that my eyes are full of tears as I write this. I was going to put more pictures than the above with this, but I cry too much when I look at them all, and there are too many to choose from. I will, perhaps, put some up some day, but not yet.

1. Dani was our beloved dog. She was born on 13 May 1998, we got her on 13 July 1998, and she went to play with God on 2 June 2006, after a 9 month battle with cancer. Our first dog, Lucy, died on 9 May 1998 and we waited unti summer to get another dog. We got Dani at the first place we looked. We knew immediately that she was the one for us. We got her a teal-ish collar and it has been her color ever since. I will miss her forever.

2. Dani was an Australian Cattle Dog-German Shepherd mix. She was about the size of an Australian Cattle Dog, but looked more like a German Shepherd. Except, her ears were not so very German Shepherd. Her ears were so very expressive. Sometimes one would stick up really high. Sometimes she would have both up. Sometimes she would have them back. Sometimes they would flap in the wind when we took her on rides. When we went on walks, they would bounce along with her tail. She had the most beautiful, most soft reddish fur on her ears. Her tail was so gorgeous too, soft and long. Whenever I followed her up the stairs I would run my hand over it. When she was a puppy, her Australian Cattle Dog instincts were very strong. She would try to herd us! She would nip at our heels, especially my sister's. And she could jump! Right up on top of the picnic table. I will miss playing with her ears and tail.
3. Dani loved food, especially meat. Some of her favorites were Cadbury Mini-Eggs, the excellent beef jerky from a local butcher shop, bananas, Junior Bacon Cheeseburgers from Wendy's, and ice cream. Once my mother caught her pulling a bag of Mini-Eggs of the table in the tv room and then scarfing a bunch up. Whenever we had any out she would watch us intently. If she was sleeping, she would suddenly awaken and put her head up. She loved the Egger's beef jerky so much. She once stole a large piece off the napkin on my leg. Another time we got some for my dad for his birthday and tucked it with some of the other gifts. When we got the gifts out, Dani kept sniffing and sniffing the clothing. It took us awhile to figure out that she smelled beef jerky on them. When she was little she really liked bananas. Once I was home alone and she was sleeping in the back room. I pulled a banana off the fridge and she came running. Ice cream was her favorite treat. We always let her lick the bowls, cartons, and fast food containers, after we finished. Her eyes would get a very intense gleam and she looked rather scary. It was so very adorable and funny. After she got cancer we began giving her her own ice cream. She would get so excited whenever we got the carton out. I will miss sharing my food with her.
4. Dani loved to go on walks. If anyone touched the cupboard where her leash was kept, even to get out the dust mop, she would be there right away. Then, she would follow the person around with such excitement in her eyes. She and I had our own little route. She knew right where to go. I couldn't come downstairs in certain clothes or shoes, or go over by my discman, without her thinking it was time for a walk. We couldn't even say the word "Walk" without her perking up. When someone got the leash out, she would jump up on that person and bark for joy. Even after she got cancer, she would pull so hard on her leash and sniff everything. Sometimes it took forever to move her along the path. Sometimes she would just go over to the cupboard, sit down, and look up at it. She would nudge her nose at the cupboard door. How could anyone resist? I will miss taking walks with her.
5. Dani loved to sleep, especially in the lap of luxury! She loved blankets, pillows, pads on the floor, couches, and beds. She had her own little pillow and her own blankets (we spoiled her terribly). Yet, she still loved using ours. If my mother stretched out on the love seat in the tv room, Dani would go over and expect to get up on one half. My sister always moved over or off for Dani! Sometimes she would just be back there by herself, sleeping. Sometimes she would take herself up to take a nap or go to bed on my parents' bed, most especially on my mother's pillow. On occasion I would go into the back tv room and find Dani sleeping on a huge pile of blankets or on top of the pillows on top of the couch, in the oddest ways! If anyone was sleeping on the couch or the floor, Dani made it her business to say hello! If someone was staying at our house, and we were setting up a bed on a floor, Dani would always climb on and impede our ability to put the sheets on. She thought it was her new bed! Once, I was sitting on the couch, towards the middle, next to my dad. There was a pillow on my left. My mother was on the love seat and my sister on the floor. I got up to get something in another room. When I came back, Dani was in my spot. I picked her up, took her over to the open spot on the loveseat, and started back to my spot. She beat me to it! I picked her up and put her back again. I sat down in my spot. Dani came over and climbed up on to the pillow beside me and just glared. It was hilarious. She would go up to bed early with my mother and then not come down until late morning. I will miss her hogging the couch and finding her sleeping everywhere.
6. Dani loved to play with her toys. Sometimes on walks she would find tennis balls over by the university's tennis courts. She was so proud to come home with one. Sometimes she would take great pleasure in pulling the fuzz off of one or tossing it for herself. Sometimes she would have fun throwing it down the stairs and then running after it. She loved it when we would throw one in the back yard or at the playground for her or down the hall. She would run through the middle of the back yard, but, because of her cattle instincts, she always went to one of the sides to come back. It was so funny. Whenever she was finished playing, she would just lay down or not bring the ball back. Another of her favorite toys was plastic milk jugs! Actually, plastic bottles of any kind. She would steal them out of the recycling bin. It was hilarious to hear and watch her run around with a milk jug. It made such a funny noise and she just loved batting them around! She had lots of other toys: her plastic hot dogs (the first of which we have only a tiny tip of left---she chewed the rest to bits), her squeaky Old Navy bones, her other toy balls, her ropes, and the stuffed animal the wonderful people at the animal hospital gave her when she went into remission. She loved it when we stuck a tennis ball into an old sock and tied a knot. We would play tug with her or she would chew on it or fling it around. Sometimes, with the stuffed animal, the ball in the sock, or the ropes she would grab a hold and shake her head around like she was trying to kill it. We always wondered why she didn't stop when she hit herself in the head. I suppose it was just too much fun. It was amazing the way she knew where they all were. She would stick one some place and find it there weeks later. I will miss playing with her toys with her and seeing them every where.
7. Dani had sooooo many nicknames. They constantly evolved, but we always called her by the old and new ones. First, she was named for one of our favorite baseball players, former Mariners' catcher Danny Wilson. One of her first nicknames was "Devil Dog." When we got her she seemed so quiet. Boy, were we wrong! She had soooooo much energy! She would race around the house when we got home from work or school and let her in. She bounced off sofas and ran around in circles. Outside she would race around and then charge you and then dart off and go around again. Often, when she was little, she would look at you with a gleam in her eyes and then steal something from the garbage can or from the clean laundry that was being folded or your shoe or whatever. Then she would look at you and dart off down the hall. We would run after and chase her round and round the sofa. It was impossible to catch her! You would finally get something back and she would steal something else. Such a little devil! Other nicknames included: Dan-Dan, Daniella, Baby-ella, Little Baby-ella, Dan, Danner, Dan-Doll, Dolly, Danimal, Dani the Dog-faced Dog, Bobo the Clown Dog, Bobo, Tubby, Tub-Tub, Tubber, Puppy Wuppy, Pupper, Hairface, Furface, Dogface, Baby Dog, and so many more that I can't even think of right now. I will miss calling her by name.
8. Dani was a Pirate Dog! She had the loveliest black around her eyes (not the fur, but her eyelids, etc.), just like Captain Jack Sparrow! Last Halloween she dressed up as a pirate, with her own pirate hat, neck scarf, and monkey! She wasn't too please by the hat, I can tell you! But we got some good pictures. (You can see them here.)
9. We could never stay mad at Dani (see "Devil Dog" stories in #7). Once, when she was a little dog, she got in trouble for something and my dad put her out in the back yard. A short time later someone let her in. My dad was standing in the kitchen. Dani ran in and nipped at his foot and ran out of the room. It was absolutely hilarious and the story still makes me laugh! She never got mad either. Even if she was acting snappish, I would put my hand out and she would just lick it. The only person she would bite was my sister. They always got in trouble together. The only furniture Dani wasn't allowed on were the nice sofas in the front living room. She never got on them, really, until after she got cancer. My mother had, in emotion after learning of the diagnosis, declared that Dani could go where ever she wanted. After we started treatments and Dani was just fine, she said Dani didn't need to go up there. My sister, however, took it to heart and started putting Dani up there. One week, Dani just started going up on the couch on her own! We would look out and see her climbing up or already situated. And the thing was, she wouldn't get down! It was hilarious, but we had to be firm. My sister was scolded, but she still did it secretly. The truth came out after Dani went to play with God and we all had a good laugh. We could always tell she had been up there because of the warm spots! I will miss her getting up there!
10. Dani was afraid of little dogs and little kids, especially babies! She was quite a baby herself! Wind, thunder, pots and pans, and a sheet of paper falling down all scared her. She would cower under tables or come to you with her "tail tucked" (as my sister would say) and ears back, or hide in the bathroom or my parents' room. Sometimes we would put her on our laps (she wasn't a tiny dog!). Some of the things she was scared of were soooo silly, but she was scared just the same! On garbage day, she would make a big show, barking at the truck. But, when it came to our garbage can, she would retreat to the far side of the yard or her dog house, still barking. So tough! Sometimes a bird would be in the yard or someone would be going down the alley and Dani would just lay there or go about her business. If one of us looked out and she saw us, she would start barking as though to prove she was doing her job. Even if she was inside when the garbage truck came, she would run into the kitchen and bark her head off. Nothing would silence her! She would often run the length of the fence, barking all along, just to make her point. I will miss her fear and her courage.
11. Dani was always happy to see us. Even if I had been upstairs for an hour, she would wag her tail like mad and look so excited. When she was a puppy she would come in and wake us up in the mornings by jumping on our beds. The day after my high school senior all nighter, I was sleeping on the fold out couch in the bed because my sister's friend was using my bed. Dani burst through the door at least 3-4 different times and woke me up. It was adorable. Whenever she was happy to see us she would either rub up against us or rub her head on our legs. Sometimes she got excited when people were sitting next to each other and she would go under our legs and rub and then go around and do it again and again. It was so sweet. Whenever we left, she would either have her head out the fence or be looking out the front window. The smudge marks are still there. Sometimes she would bark when we left. She was always happy when we came back. I will miss her joy at seeing me.
12. Dani loved to play out in the yard with us. If my dad was watering the lawn, Dani would bark furiously at the hose and enjoyed getting sprayed by the water. She thought she could chase it. When she was a puppy and my mother was pulling weeds, Dani would grab the weeds from the pile and spread them all over the yard. She used to throw her tennis ball out the fence for our old neighbor to throw back in. One of her favorite spots was right behind the dog house. It was sort of shady there. Her favorite spot, however, was right on top of the picnic table! She would jump up there and sleep or survey her territory. It was always fun to look out the back door window and see her up there. She loved it. I will miss playing with her in the back yard.
13. Dani is now with God. She is playing with our first dog Lucy and is so happy and carefree. No more vet visits (though we have the greatest vet and animal hospital in the world), no more needles, no more thunderstorms. I thank God every day for her presence in my life. She was one of hte greatest gifts he could have given us. We will miss her every day of our lives, but we know we will meet her (and Lucy) again at Rainbow Bridge.
WE MISS YOU DANI!!!!
WE LOVE YOU DANI!!!!

Links to other Thursday Thirteens!




Get the Thursday Thirteen code here!


The purpose of the meme is to get to know everyone who participates a little bit better every Thursday. Visiting fellow Thirteeners is encouraged! If you participate, leave the link to your Thirteen in others comments. It's easy, and fun! Be sure to update your Thirteen with links that are left for you, as well! I will link to everyone who participates and leaves a link to their 13 things. Trackbacks, pings, comment links accepted!


View More Thursday Thirteen Participants